In the spirit of the holiday season, LMF in partnership with the City Government of Muntinlupa, awarded Jollibee gift certificates worth P500 to 100 lucky winners of the YanYan Komiks and Muntinlupa Care Card Christmas Raffle.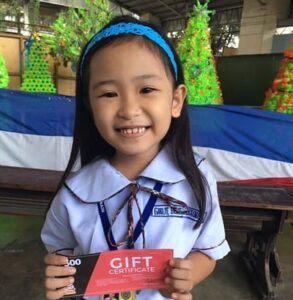 Awarding was held simultaneously in all public elementary schools of Muntinlupa last December 19, 2016.  All prizes were made possible through the generosity of Mayor Jimmy R. Fresnedi and sponsorship of the newly opened Jollibee in South Park Mall, National Road, Alabang.
All raffle participants who has a valid Muntinlupa Care Card will also receive a gift certificate of 1 Jolly Spaghetti Meal.  Those who participated in the raffle but had an expired or invalid Muntinlupa Care Card will no longer be disqualified, as stated in the contest mechanics, as they too will receive a gift certificate of 1 Sundae Ice Cream.
All gift certificates are redeemable at Jollibee South Park until March 2017.
IMPROVED MUNTINLUPA CARE CARD BENEFITS IN 2017
Muntinlpa Care Card holders will have a more rewarding experience as they can expect more benefits coming on 2017.  Among the new benefits is a monthly birthday raffle, a free reloadable VISA card, and exclusive promos from private partners.
All  of these on top of the current benefits such as the free ride to the Electronic Jeepney Ride for Free (e-JRF), faster processing of OsMun subsidy, and accident financial assistance up to P10,000.
Renewal of the MCC will also be FREE starting January 2017 if the accident financial assistance will not be renewed.  If the card holder would like to extend the accident financial assistance benefit, there is a minimal renewal fee of P20.
Below is the complete list of raffle winners.
Congratulations and Merry Christmas!